When I moved to Philadelphia, my mom gave me her 2011 Honda Accord. I hadn't had access to a car since high school and didn't miss it for the five or so years I lived in Chicago, but the idea was that it could be nice to be able to visit some family that lived up in Connecticut. I think my mom also just wanted a new car. She got the Accord once she could justify passing her old SUV onto my older sister when she was in high school and now, she'd justify a new car by pushing the Accord onto me. It's the circle of life.
As a teenager, I was a comically bad driver. I hated everything about it. I hated getting gas and I hated merging onto I-55 to go anywhere and I especially hated parking. When I took my driving test, I was told, "there's room for improvement but TECHNICALLY you passed." When I was 17, I hit a parked car in the public library parking lot and I honestly don't think I ever got over it. In the moment my main concern was mostly just that my parents might not let me go see Seahaven the next weekend, but it had a lasting impact. I still find myself circling parking lots looking for any way to avoid having to turn left into a parking space.
Then I went to college in the city and didn't think about driving. I didn't want a car. I hated driving. I was so scared of it. The times I did drive— around the suburb I grew up in or down to Champaign to see friends— I'd have to pull over and put myself back together from the anxiety.
I didn't drive more than 2 and a half hours alone until I was 24 years old.
When I moved to Philadelphia with this 2011 Honda Accord, I didn't even get it here. I sat in the passenger's seat of the U-Haul my dad was driving while my boyfriend at the time drove my car the entire trek across Illinois, Indiana, Ohio and Pennsylvania. When we got here, I'd always defer to him. I never drove unless I had to. I was bad at driving and bad at parallel parking in our West Philly neighborhood. He drove us up to Boston to see friends and to Connecticut for Thanksgiving and to Asbury Park for fun. The account for the EZ-Pass stuck to my windshield is still under his name.
This was the arrangement I always had with my boyfriends. My boyfriend in college drove us around LA traffic in a manual transmission Subaru. My high school boyfriend drove his mom's Mustang with a nonfunctional radio so he blasted Arctic Monkeys from a bluetooth speaker in the backseat. When I met the guy I'd move to Philly with he had a beat up blue car that didn't have air conditioning, but he'd force me to listen to Atom and His Package and The Ergs and Jeff Rosenstock from Chicago to Champaign and back again. Those cars are where I have some of my most innocent and cherished young romantic experiences. I fell in and out of love in those cars sitting firmly to the right of a man I perceived to be more competent than myself.
But then everything changed from June to September of the second year I lived in Philadelphia.
First, I dropped out of law school, and got a job I had to commute to.
Then, I moved to Fishtown.
And finally, I no longer had a boyfriend.
It's like that Hold Steady song. You don't have to learn how to own a car, let your boyfriend know how to own the car, it only gets kind of weird when you suddenly find yourself in the car alone. Or whatever he says. My fear of driving was so tied up in my fear of having to admit I wasn't as self-sufficient as I thought I was. You never set out to be a girl who can't do anything without a boyfriend, but it's even harder to admit when it's already happened.
In the wake of that relationship ending, I was dragged kicking and screaming into learning how to actually own a car. I was forced to become good at parallel parking because I had to get to work on time. I got my oil changed even though the men at the shops scare me and I learned not to park too close to the corner. I was taught how to put windshield wipers on, and I got new tires. I learned how to park illegally in a way that wouldn't get me a ticket. I also got a lot of parking tickets.
All of the sudden I was spending time in my car every day. Leaving in the morning to stop at the café that served breakfast sandwiches on English muffins, drive the 10-15 minutes north to the industrial park where my job was and park next to the tow trucks. I'd leave work at exactly 4:00 so I could find somewhere to park in my new, denser neighborhood. My daily focus was to get there before the parents and young professionals to secure a spot beside the cemetery that was lined with free parking. It was golden at exactly 4:25 PM when I aimed to get back, but that window closed quick.
Eventually I drove from Philadelphia to Pittsburgh alone. It was the longest I'd ever driven by myself and I almost couldn't believe I did it. I played all the albums I liked driving around to best— The Gaslight Anthem and Self Defense Family and Joyce Manor and Dillinger Four— and I stopped in the middle to have snacks. I still had to decompress from the stress of driving on the western part of the state, but I did it and almost instantly my car stopped feeling like my burden.
Suddenly, it felt like some extension of me. It was this totally secluded space that really felt like it was mine. I'd cry inside it outside my job about how directionless I was and I'd drive around yelling along to PUP songs and I'd eat fast food in parking lots while watching youtube videos. Instead of being something that stressed me out, it became a source of comfort and confidence.
There's a lot to be said about driving culture in America and why cars are bad. I certainly don't need a car and I don't know if it's strictly worth it to have one, but a couple weeks ago I drove up to New York to see Jeff Rosenstock play on a whim. I didn't agonize over the decision; I was just busy the next day in a way that made driving the best option. I knew I could get to my pre-paid parking spot just fine and find the friend I was meeting up with before the show all on my own. Taking my car was the practical thing to do so I could make the less than super sensible choice to see Jeff play on a Wednesday night in a city I don't live in.
It's just also something I would have told myself I couldn't do two years ago unless I was still sitting to the right of a man more confident than myself. Now I just lament the tolls and hope I make good time.
---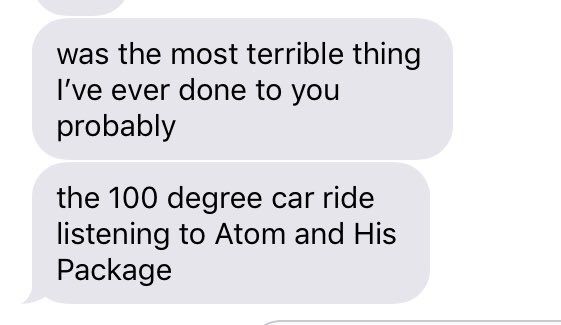 ---
Miranda Reinert is a music adjacent writer, zine maker, podcaster and law school drop out based in Philadelphia. Follow me on Twitter to see more thoughts on hanging out in my car: @mirandareinert.  You may also send me small bits of money at @miranda-reinert on venmo if you want. As always, thanks for reading!