reviews
On Puberty 2 by Mitski + some singles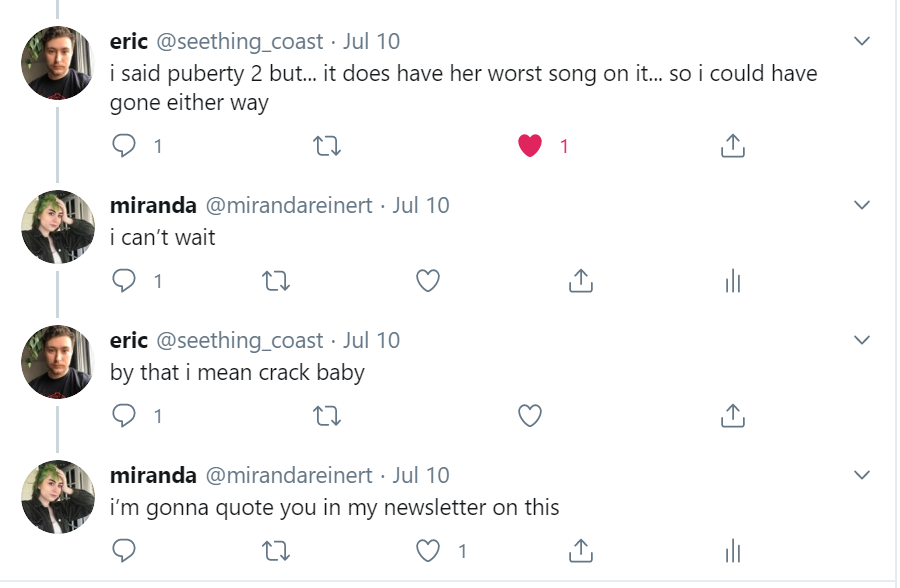 Before I get into a true introduction, I wanted to say a big thanks to everybody who read my title fight newsletter last week! The thoughtful reaction and amount of people who read it was astounding to me. Okay, enough of that.
Today, for my second installment of Something Old, I'm looking at Mitski's fourth album, Puberty 2. I decided on this one not because I think I'll have an unpopular opinion (as some of you who know me might assume) but because I was speaking to my roommate about how she has been listening to the new Phoebe Bridgers album on repeat, all the way through, for weeks on end. I was trying to think of albums that I remember people talking about that way that I never spent too much time with. Mitski's Be The Cowboy came to mind. However, this newsletter is about listening to things that are new to me and I've already listened to that one! So I did a poll on twitter about whether I should discuss Puberty 2 or Bury Me At Makeout Creek.
miranda @mirandareinertfor no specific reason .... which mitski record is the more important
July 10th 2020
I, of course, didn't wait for it to end before deciding on my own to do Puberty 2, not that it matters, anyway. The poll ended perfectly 50/50. I initially was thinking I'd do Makeout Creek because I am drawn to a Double Double Whammy release but that feels too easy and to ignore the fact I've never heard Your Best American Girl just isn't right. Now, I have two things to say in regards to Mitski before we get into it.
I believe Mitski is one of the true rockstars of our moment
I did not like Be The Cowboy
For this reason, I am writing this intro on Thursday evening and intend to spend the next 5 days really trying to understand Puberty 2 and the love people have for Mitski on the whole. My current music listening inclination is closer to wanting to listen to Romance Is Boring by Los Campesinos over and over again so it would be unfair to give it just one day of listening and writing. I'm trying to understand people's love for these albums, not be a contrarian asshole (believe it or not).
Okay intro over, let's find my headphones among the mess that is my bedroom as I begin to pack to move to Philly (two weeks.. jesus christ.) and form some opinions!
Something Old
I've listened to Puberty 2 probably six or seven full times straight through over the last week with extra focus on the song I really do love which I've listened to 42 times in the same span (have I ever mentioned you can follow me on last.fm ?). Some of those times were close listens, some were done while I wrote grocery and to-do lists, one was late at night while I sifted through clothes to get rid of or pack away to move.
When I listen casually, I find the album enjoyable. I find Mitski's voice generally nice to listen to, obviously. Puberty 2 is, for the most part, totally listenable for me. Whether or not I think the album is bad or good isn't the point of this exercise, though. When I tweeted about wanting to review a Mitski album I got the kind of impassioned responses that I knew I would.
Jungheim Struggle Tweets @jungheimmusic@mirandareinert !!! idk to me (i've mostly listened to puberty 2) it just feels like an album of healing. i've had so many more heart-clenching moments listening to the lyrics of puberty 2 (especially the last song)
July 11th 20201 Like
interstellaleona ✨ @likeelectric@mirandareinert My vote was for Makeout Creek but I honestly don't know how to help because they're both perfect records
July 11th 20201 Like
The people LOVE Mitski. And I get it. Kinda.
Happy opens with ultra cool fuzzy crooning that gives way to bright horns and an upbeat indie pop track that's tied together with Mitski's smooth voice. This song sounds like the beginning of a coming of age movie to me. The slow intro starting in a bedroom giving way to an introduction to our main character's life. Maybe she's riding a bike down a street toward school or friends. Maybe she flings some curtains open to reveal some bustle on the street while she's being yelled at to get ready. You know the intros I'm talking about.
Hearing this song excited me to hear the rest of the album. I was excited that I picked it after my first listen of Happy. I've been in a pretty deep Japanese Breakfast phase so I thought maybe I'm just better primed to listen to Mitski now than I was when Be The Cowboy came out.
Then it's followed up by two songs I find utterly unmemorable and I'm reminded of my perception of Mitski prior to this week. Maybe it's unfair but I've projected my feelings about Phoebe Bridgers onto Mitski for years. Ultra talented vocalist who sings sad songs and that's the whole appeal. Just music to wallow to that you can project your feelings onto. Most of the time it's not for me and that's what led us to me never having listened to this album. Dan The Dancer (a song I find annoying) and Once More To See You (a song that evokes CW teen drama prom episode) gave me a sinking feeling that maybe I'd be right about my opinion and everybody who follows me on twitter will be showing up to my DMs with pitchforks.
Then Fireworks came on. This song, pun intended, lights up something inside me. It's fairly simple sonically compared to the keys and horns of the songs preceding it but the ebb and swell of the music behind her voice is.. stunning. It's perfectly matched. But I know why this song stands out to me and it's why any song stands out to me: there is a line that will jump out and stick to me.
And when I find that a knife's sticking out of my side / I'll pull it out without questioning why
I love that line. It stuck in my brain for days. I love the slight pause before the "why". I love the restrained anger in her voice. As I type this I'm listening to Fireworks on repeat and each time the line comes up, I pause to take it in. It's a beautiful song and a testament to Mitski's not only vocal talent but perfect vocal control. There's as much anger and frustration as there is pain and sadness oozing from her voice. The delivery of the words is perfect.
I could go on but I won't. I love this song.
Your Best American Girl is cool too. I get why it's like THE Mitski song (other than Nobody). I like the more unraveled vibe the fuzzy vocal effect gives. It's cool. The production on all the songs is beautiful. It's perfectly sleek just like Mitski's voice.
I Bet On Losing Dogs and Thursday Girl are perfectly fine songs, filling out space between songs that have larger presence. I especially like A Loving Feeling. It's poppy and catchy and I can see myself placing it on a playlist easily.
On the other side of that coin, My Body's Made of Crushed Little Stars. I find this song challenging because it's one of the few on the album I really feel like I connect with the lyrical sentiment on. The lyrical sentiment is matched perfectly with the punky chaos of the instruments and Mitski's voice straying from the contained smoothness of most of the album. I think this song is cool. It adds to the depth of the album.
I also hate it and hope to never hear it ever again which I think is very, very cool.
Now I haven't addressed the thing people rave on and on about with Mitski: the lyrics. I've read through them many times and listened carefully. I can recognize they're well crafted and certainly pretty, I don't feel all that strongly about them. So I was packing tonight and thinking, "okay what is it that doesn't feel all that inspiring to me?"
What I've come to is a comparison. Mitski lyrics, for me, are like the classic anti-astrology argument: you think it's profound and relatable because it's vague.
That doesn't mean there's no value in relating or in finding yourself inside this emotion that Mitski is creating an environment out of. Maybe astrology is fake but I like being a leo sun, scorpio moon, libra rising. The lyrics aren't bad. The way they're paired with melody and vocal power is stunning. They're just certainly not what I'm drawn to in lyricism.
She evokes depression, melancholy, fear and happiness, love and losing it all throughout the album beautifully. It's just not because of the lyrics for me. It's the power in her voice and the strategic use of dynamics and expansive instrumentation.
Well, then there's Crack Baby which I'll leave my opinion on in the words of someone else:
Something New
I didn't really come across new full albums that I was super interested in talking about so I'm gonna talk about some singles that have come out recently that I do think are sick.
Manic Pixie Dream Hurl by Thank You, I'm sorry
This song was just released today (Tuesday the 14th) and it's super cool. The song exists in an acoustic version on their Bandcamp but this filled out, full band single takes it into lo-fi indie punk bop territory.
Their debut album will be released August 21st on Count Your Lucky Stars.
Listen to Manic Pixie Dream Hurl.
Twitter: @thankyouimsry
FFO: Retirement Party, Dowsing probably, other indie punk artists from between Chicago and Minnesota
Green Tea Ice Cream by Angelboy + The Halos
Every Angelboy + the Halos song is worth listening to. If you're mourning the loss of Bay Faction this week, this song is for you! The vocals are ultra cool. The instrumentation is understated but hallmarked by a plucky riff that just makes me smile.
Twitter / Instagram: @andthehalos
My Space by Bexley Moms
Bexley Moms premiered their video for My Space on a twitch stream on Monday in which they raised money for BQIC who describes themselves as "a grassroots community org working toward the liberation of Black LGBTQIA+ folks thru direct action, education, and creating spaces." The video is neon chaos and it was sick. I just thought the concept of premiering songs and videos on a twitch stream was a really cool concept. They formatted it as setting donation goals and with each goal they'd premier the new video or a new song. Beautiful combination of music + the twitch donation stream format that I just wanted to shout out.
Twitter: @momsbexley / Instagram: @music4bexleymoms
Matt 001 (Maybe) by Normal State
Earlier this year I put out a zine that mentioned wanting Normal State to put out new music because everything Cove puts out is captivating. This song is in honor of a the passing of someone close to them and their voice layered over a lo-fi beat is as heart-wrenching as it is dreamy. I have so much love for Cove + Normal State and I hope you'll listen to this song. It has an accompanying video that rules, too.
Check out more of their music among other things at covellineblue.com/
Twitter: @normalst8
Thanks for reading this newsletter! Please do not yell at me about Mitski!
Miranda Reinert is a zine maker based in Chicago until the end of this month in which she will be a zine maker and law student based in Philadelphia. Follow me on Twitter for more on music and other garbage @mirandareinert.