personal
on the morning + personal media consumption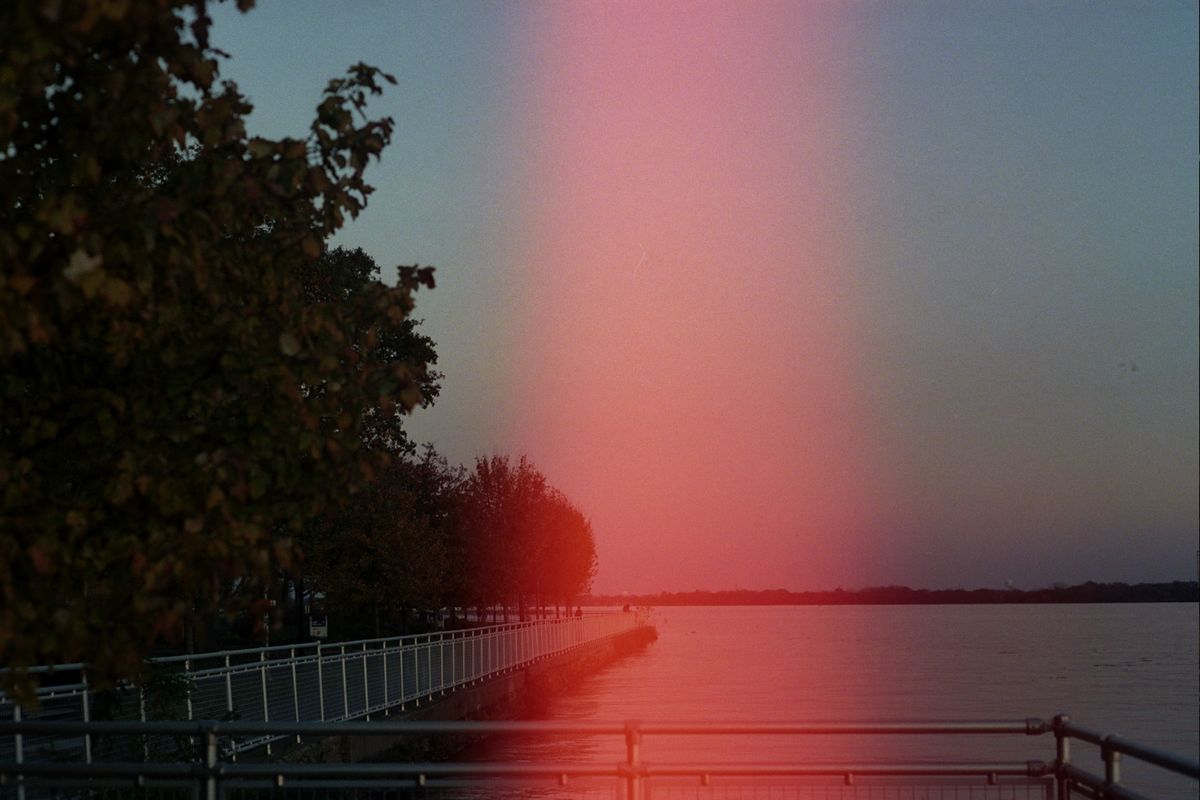 Hello friends,
How are we? Well? I hope so. I started my semester again so I'm back to being awake in the morning. I like mornings and I don't necessarily have trouble waking up early when I need to, but I still tend to operate better at night. I do most of my best work after 8 pm.
I think about how I used to be a barista and would have to be up at 3:45 to get to Lincoln Park from Ravenswood to start work at 5:30. Being up that early is a different kind of morning. I remember I'd walk about 12 minutes then take the Clark Street bus down from Montrose almost to Fullerton. For those not familiar with Chicago, the whole thing would take about a half hour, but ended up being closer to like 45 minutes factoring in not trusting myself to get the timing perfectly right as if I cut it too close and missed the bus I'd be late.
Going southbound toward the Loop on a weekday at 4:48 AM you could bank on the only other patrons of the Chicago Transit Authority being people who needed to be at work and people heading to the airport. Always three, four people at most besides myself.
There's a certain kind of calm that I miss sometimes. On days I didn't sleep I'd walk down to 7 Eleven and buy some kind of granola bar and a monster before clocking in. I'd get to work and let a guy who worked at some 4 AM bar but lived nearby buy a coffee even though we were over an hour from opening. I'd listen to an album or two before putting on my approved playlist. It was usually Jeff Rosenstock or Martha or PUP because once I walked through the doors I was pissed to be working at 5 AM at a goddamn donut shop in the middle of Lincoln Park.
But on the bus, I found myself gravitating toward warmer music and valuing that softness in the harsh lighting of the bus. Softness that wasn't always quiet, but more of an emotional warmth that helped regulate a start to my day. The playlist I made this week is more quiet but I think it's got a similar energy to the other one and I've enjoyed listening to it while getting used to having to get up and be, you know, functional and engaged in My Legal Education™️.
I struggle a lot with auditory processing and it makes me really irritable, so having playlists is a really vital part of my life experience. I don't spend a lot of time listening to new music so much as I try to curate my music listening to play a positive role in my day to day life. Most of my friends focus on listening to albums and there's always some kind of discourse about albums being art or whatever. There are certain things I listen to as albums and I think a first listen should be the whole piece, but generally I'm a playlist person. I love being able to listen back to something I made two years ago and feel what I was feeling then and see trends in the kinds of stuff I enjoy at what time of year.
Anyway, this playlist is sort of formed around a desire to listen to Florist. It's morning, it's winter, I want to listen to Florist. It's sort of a bell curve of sound in that it works in sort of four movements. Starts quiet with Florist, Swim Camp, Lomelda, Tiny Prince, Gia Margaret, and Addy. Then flows through Everything Must Go! by The Weakerthans into Trust Fund, Casiotone, Slaughter Beach, Dog, and Fialta. Then it starts to grow with a Josh Hodges Polyvinyl 4 track song, Vagabon, and Hop Along, then go back down with Trace Mountains and Frightened Rabbit. Finally, we're wound back down through a new Thank You Thank You track, Crisman, back to a richer Florist song, Laura Stevenson, and finally The Reasons by The Weakerthans.
All that to say it's meant to be listened to in order.
You can listen to that playlist on Spotify here and on Apple Music here. The playlist photo is seen below and I think was taken down by the Navy Yard in Philadelphia. I opened the back of my camera because I'm an idiot and I forgot there was film in it so that's why it looks like that, but the effect is kinda nice. I don't know.
In other news, I've been reading for fun again. Kind of. I've been buying things to read and trying to get through the rest of Do Not Sell At Any Price. I'm like 180 pages in so I should just finish it, but I'm struggling. It's about the collectors of 78s and different personalities and figures. It's fine. I like the more ephemeral bits about belongings and the feeling of finding something rare. I also like hearing about collectors and their different mindsets toward the same type of item.
She lost me in the multiple chapters dedicated to her scuba diving to search (unsuccessfully) for 78s at the bottom of some river in Wisconsin. I think usually I'm quite tolerant of writers making things about them, but it didn't land for me as relevant. I also didn't like how she talked about Wisconsin. Not that I'm, like, mega big on the state, but talking about a town outside Milwaukee like it's some hick rural foreign land is coastal bullshit I hate. Maybe that's my bigger issue with that section.
Anyway, I think other parts of the book where she starts to do little bios of important musicians featured on the 78s get a bit outside the scope of what I like about the book. It feels rushed because this book isn't about them. It's about the people collecting their work and the culture and figures who do it. I think acknowledging this value and importance of culture inevitably tied to music is really genuinely beautiful. The bios of the musicians add nothing to that for me outside of like "oh that's kind of neat."
I was told it ends well so I'll keep reading to see if I find that true. It's nice to read for enjoyment at any rate.
Two nights ago I bought a bunch of Cometbus back issues and other books from different zine distros and ebay. I find him a compelling figure. I wish I'd found Cometbus before, like, MRR which I found dreadfully boring and it put me off older fanzines (or fanzines made by people quite a lot older than me) for a long time.
Well, that and how often there's amendments to zine archives online noting who did and did not become a neo-nazi after publishing something interesting about DIY and ethics. Punk sucks lol.
Some other stuff I've liked lately and thoughts that don't deserve full posts:
Jordy Walsh started a newsletter called I Keep A Diary. It's about, well, keeping a diary but also about books and writing and music. He's only put up 2 posts so far but I've liked them both a lot. It sort of inspired this newsletter's more informal format. Go check it out.
I watched Carol the other day. Very good film and the first drama I've really enjoyed carefully in a while. I really miss seeing movies in theatres, but I've been considering getting a Criterion subscription and maybe it'll push me to watch more movies with some more intentionality.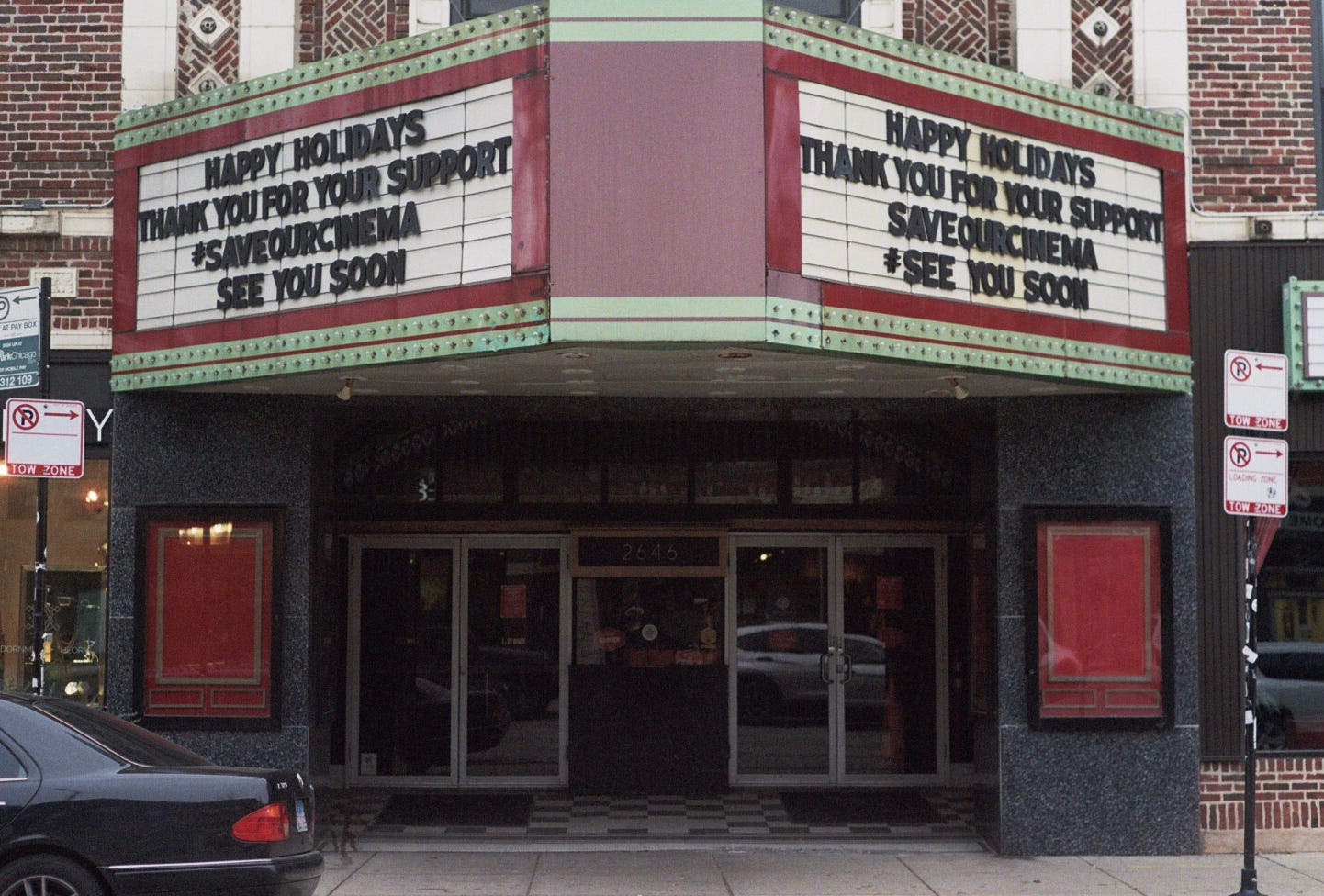 If I remember correctly, we don't stan the people who own the Logan Theater (above), but I like this picture I took of it when I was in Chicago last. I also liked that you could go there and see a film for under $10 and usually the ticket takers weren't that strict about you bringing in beer. I've also only seen good movies there which is not true of The Musicbox where I saw The Beach Bum and also Phantom Thread, two films which prompted nearby crowd members to say, "that kind of sucked" out loud when the showing was over.
I've transitioned to flat whites instead of triple lattes. I don't need that much espresso, but the latte milk to espresso ratio isn't what I want anymore. It's been good.
Philly winter doesn't hurt like Chicago (physically and emotionally) and it's been great for me.
I finally made a little logo for this thing. It's based on this slide I stole from this huge box of slides my late grandfather had from his job. It originally said "THE END" and can be viewed on my twitter header. I really like the idea of all those photos of his life. My mom hates photos that aren't of people, but I think the things people choose to take photos of and the documentation of their surroundings says something really profound about the person taking the photo. My grandfather spent most of his life working— we all spend most of our lives working. Having photos of those places and coworkers we'll never know names of, those things are life, too. Work can be an interesting sort of privacy from our families and friends. I hope to be able to go see my grandma relatively soon and go through more of those photos.
Okay I think that's it. I figured I'd do some more casual writing this time just because I've been thinking about the media I consume a lot. I've also felt pretty anxious lately and it's been tough so trying to feel some more intentional calm.
Happy Thursday. Have a good one.
---
This section is for paying subscribers! I tweeted recently a google form to collect addresses of paid subscriptions so I can send you zines/postcards/etc. in the future! If you've already provided that then no need to fill it out but I've had some new subscriptions lately so if you're interested in getting mail from me please let me know! If you're not interested in a zine but might like a postcard or something like that, you can note that at the bottom, too! Just let me know. Thanks so much y'all are so cool.
---
Miranda Reinert is a zine maker and law student based in Philadelphia. Follow me on Twitter for more on music and other things like when I get to be on the Endless Scroll Podcast: @mirandareinert. I also just opened up a paid tier of this newsletter which for $5 a month (or $40 a year! what a deal!) you'll get free zines as I make them and one upon sign up! Wow! But as always, thanks for reading!