reviews
on (what's the story) morning glory by oasis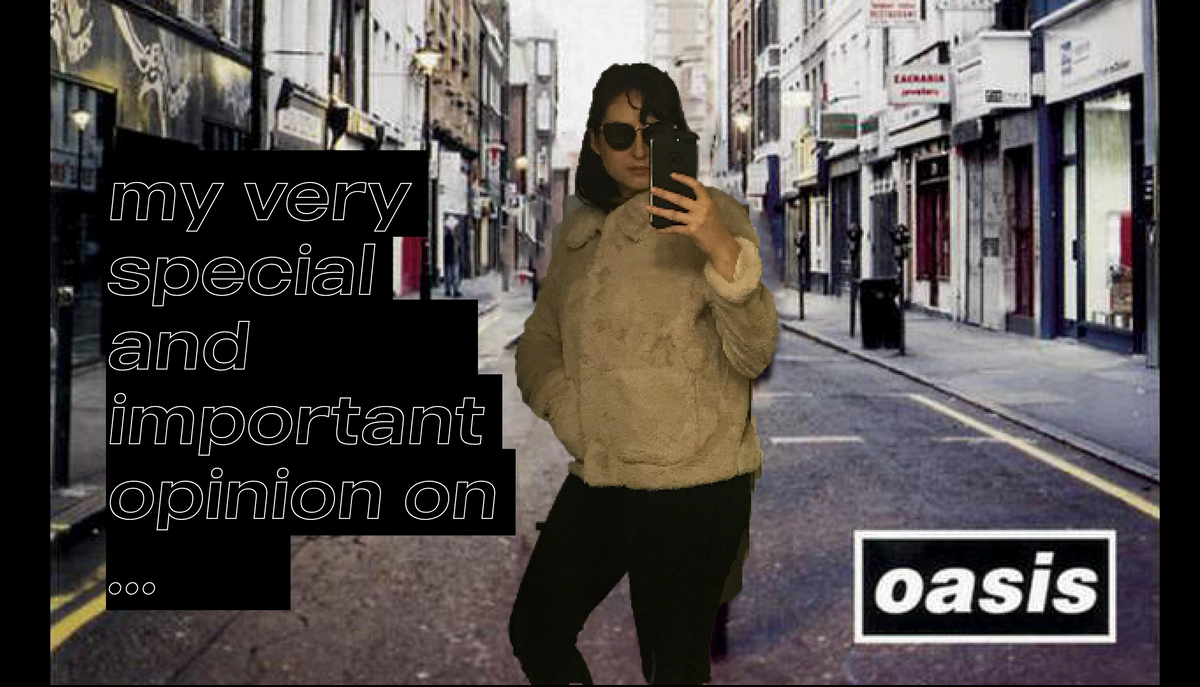 Welcome back to the music ignorance corner with your host, Miranda Reinert.
In my brain, Oasis are more of a cultural reference than a band with music for people to listen to. Liam is one of twitter's best posters. The Gallagher brothers arguing and insulting each other is always a laugh. "Wonderwall" has transcended being simply a song. It almost feels trite to write about them at all because it's like trying to have something compelling to say about The Beatles.
(What's The Story) Morning Glory is an album you can find on vinyl in every single record store in America. It's right up there with Perfecting Loneliness by  Jets to Brazil in terms of record store ubiquity. I've also never listened to it so I guess that's what I'm doing here.
My impression of Oasis has always been like.. Probably very good but not in any surprising way. Just good, British guitar music. Given I'm notoriously busy listening to worse music, I just never bothered until now. So let's talk about Oasis.
Hello
Hi! This song is cool. Guitars rock dude. That's all I got.
Roll with It
I hate this song. For a bonus episode of my podcast, we talked about the movie Yesterday where The Beatles don't exist and there's a big joke in it about how it makes sense that Oasis can't exist without The Beatles. Big laughs. I know that's a whole joke about the band, but GOD this song is so tough to listen to. Very 60s in the corny, goofy way.
A lot of the songs I don't love on this album at least have moments of like totally perfect, untouchable vocal melody where I'm like "damn that's actually sick though" but this song has none of it. No thank you.
Wonderwall
Wonderwall deserves its place in the cover song hall of fame. It's just a good song! I feel like it's one of those songs where people pretend they don't think it's a great song– a Mr. Brightside situation– but it's just a super good song.
Don't Look Back in Anger
Truly probably the best song on this album. Guitars really are so sick. Obviously not the first time I've heard this song, but damn great song. This song is stuck in my head all the time. I don't like the music video, but that's a minor gripe.
Hey Now!
The only thing I can think when I see this song title is this:
But that aside, I think this is a good song. It's one of a few on this album where I don't think I'm enjoying it much, but then there's just a great melody in the chorus and I'm brought back into it. Guitar solo is good. It's pretty long for what it is. Overall I feel like it's kind of forgettable, but in context I enjoy hearing it.
The Swamp Song (Version 1)
[interlude]
Some Might Say
This is a good one and follows how I'm feeling about a lot of songs on this record overall. On first listen it's verses that toe the line of annoying leading into an absolutely huge chorus that almost makes me understand why people think this band is god-tier, golden songwriting.
This one, I think, was served best in the car and a fourth or fifth listen really. I can understand why this album continued to grow in critical acclaim and affection. It's very repeatable. The songs get better as you hear them more. I can imagine being a person in the 90s who has to hear them all the time on the radio or whatever and ending up with those songs being favorites for life. I think I kind of feel that way about Fall Out Boy singles. They're not a band I love or have done too much in depth listening of, but I have so much affection for the big singles. Those songs are so great.
Cast No Shadow
Bit vibey.
She's Electric
This song sounds like a 30% more subtle Fratellis song and I mean that in the most negative way possible. Just jaunty and silly. That said, I think I do like it. I don't want to like it, but I do. Which is probably also how I'd describe my feelings toward The Fratellis.
Morning Glory
I wasn't expecting this to be an "album name said in the lyrics" type album, but I'm glad it is. This song is really cool. Dudes rock. I think this song sounds like they're having fun which I don't think most of the album feels like. It's a little bit less.. buttoned up. It's better off for it. I like it.
The Swamp Song (Version 2)
I'm not sure what these little interludes are bringing to the album, but I guess it's a fine bridge between Morning Glory and Champagne Supernova.
Champagne Supernova
I think this song is great, obviously. I do mix it up with "Cigarette Daydream" in my head a lot, though. I feel like those songs have similar energy. That said, I was watching the video for it and Liam's never looked better. I didn't know that I thought Liam Gallagher was hot, but with a beard I'm there.
The comment section should be about Liam's facial hair, but instead it's just people mourning their dead relatives and one person saying he looks like a cross between John Lennon and Steve Jobs, which doesn't make me happy. He looks hot.
Also this song is really good. Guitars are really so cool.
I think this album is very good and well written, obviously. It deserves its love. A good record that I've enjoyed listening to all evening after a very hungover day listening to only "Cottaging" by Self Defense Family.
That said, for how cool the guitar work is and how well written it is, I'm still left with this feeling of like.. joylessness that radiates off the songs. It just doesn't feel like much fun which isn't the vibe I typically get off guitar music. So much is fun about The Brothers Gallagher. The public beef is fun. Liam Gallagher seems like a very fun and goofy dude. Noel is very funny. For some reason the album cover cost twenty five THOUSAND pounds to make? That's absurd and hilarious. I just don't know that I'm feeling much in the music which is odd. I just can't imagine people having a good time sat down and wrote this.
It's so good maybe it's bad.
No, it's not bad. It's still good. Just too good. C'mon you know x
---
Miranda Reinert is a music adjacent writer, zine maker, and law school drop out based in Philadelphia. Follow me on Twitter to hear more about my ongoing fixation on Self Defense Family: @mirandareinert. I also have a paid tier of this newsletter for $5 a month or $45 a year! If you do that I'll give you at least one free zine if you email me an address! Wow! Might want to get in on that! You may also just send me small bits of money at @miranda-reinert on venmo if you want. But as always, thanks for reading!