reviews
on yankee hotel foxtrot by wilco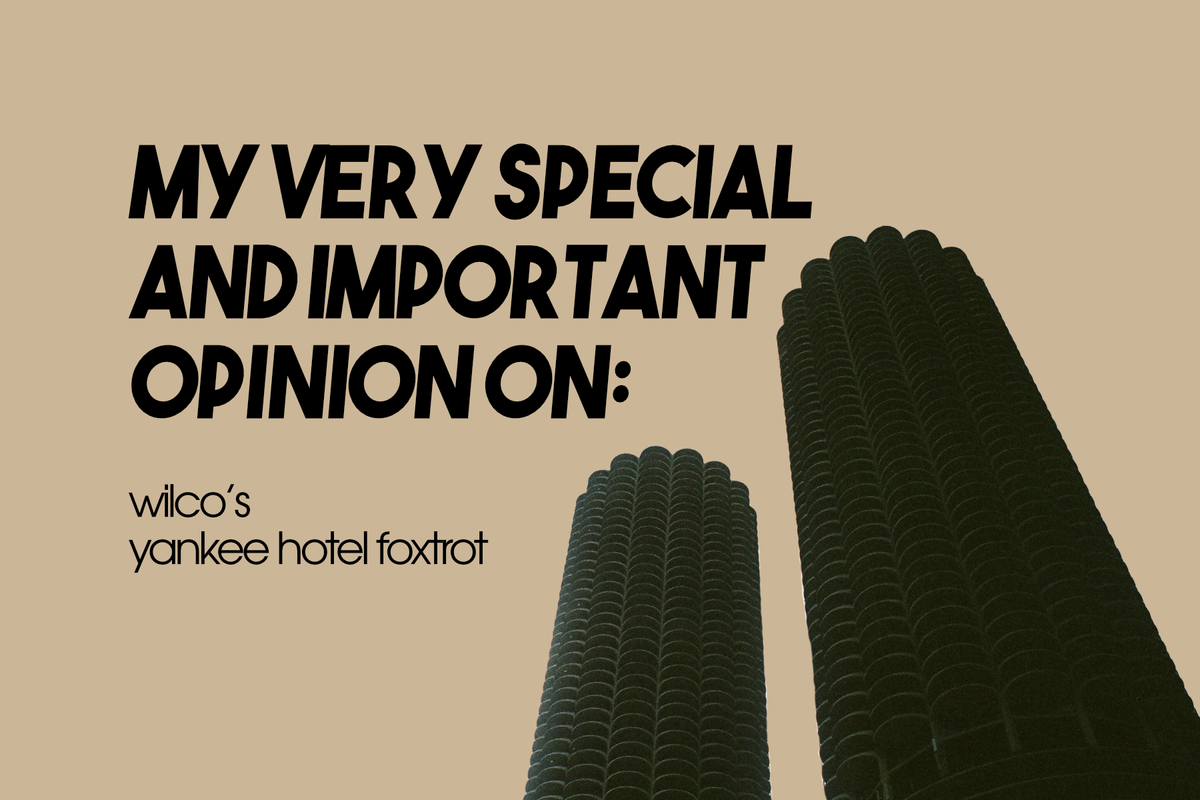 Something Old
I made a poll to choose between this and Illinois by Sufjan Stevens. I will do that album, too, if for no other reason than the cover is absurd.
But today we experience Wilco. Yankee Hotel Foxtrot is an album with a cover so nice I couldn't bear not to like it. I love the stupid Marina City towers. I think they're so cool and, more importantly, they perform an important public service: obscuring the ugliest building in Chicago, Illinois.
The House of Blues. Horrifying piece of architecture. Who signed off on this metal saddle? I hate it so much.
But back to Wilco… I don't know a heck of a lot about Wilco. I know Jeff Tweedy's name. I know he has at least one child who also makes music. Uhhh I know my good friend Michael Brooks is a big fan and so are many other people. I know they're from Chicago. I know I really like the Schmilco album cover too. That's about it. Michael told me YHF got a 10 on Pitchfork in 2002 which almost always means it's at least kind of an exaggeration.
Ok one more photo of the House of Blues to get myself pumped full of adrenaline before I get into it—
Okay, let's talk about indie rock.
I Am Trying to Break Your Heart
The ratio of annotated to unannotated lines on any given song on Genius is the only true indicator of how much people care about any given thing. This song is entirely annotated apart from one (and a half) lines. I've found it's also the name of the documentary. Maybe I'll watch that.
Anyway, this song is a true intro track and feels like it it knows it's a real good intro. Most really beloved albums have their version of this. Really makes you feel like they knew what they were doing. I like the story in this one and I really like the sort of undone, chaotic piano ending. The vibe has been executed beautifully.
It feels like being alone on a cold, but not like COLD cold evening in the great city of Chicago, Illinois. Like nighttime, maybe 9PM in March or April. Cold, but not so cold you can't think because you're in so much pain. Getting warm enough to walk and wallow in your self pity, but with the occasional cutting wind to remind you winter is somehow not over yet.
Maybe you're on your way home from work. You're walking up Milwaukee Avenue toward Logan Square. You just want to get to the train because you don't want to wait for the bus today. You pass by bars starting to fill with people. A barcade where you flinch at the memory of your 21st birthday. The Owl with its light up eyes. The Native. The other ones you hear the cool people talk about but have never actually been to. There's that one small coffee shop where the employees are all really mean to you. It's closed but you still think about how all the employees are mean to you anyway. You think about how you should get over to Women and Children First more often. You cross the square and duck into the Blue Line. 21 minutes until the next train. It's not even that much warmer down here. Should have got the bus.
Kamera
This reminds me of Soak Up The Sun by Sheryl Crow. Nothing against Sheryl Crow, but it does remind me of listening to the music in a middle school gymnasium and for that reason I can't enjoy it. Also, why the K? Does anybody know? Is there a reason? I hate it if not.
Radio Cure
This is boring and maybe it's the curse of name association, but this feels Radiohead-esque to me until it kind of opens up toward the very end. I like the last minute and a half or so. When I looked up the Yankee Hotel Foxtrot font name (ITC Avant Garde Gothic), the website called it the "OK Computer for the alt-country set" which I think is bold music journalism from rockthatfont.com. Or maybe not. Anyway, not big on this one.
War On War
"you are not my typewriter / but you could be my demon" is the AIM away message of someone irritating.
"you have to learn to die / if you want to want to be alive" is the AIM away message of someone you're a little worried about, but not like.. that worried about.
This one is shimmery and cool and sounds like it should be the credits song in an indie movie that has one famous person in it.
Jesus, Etc.
This is one of two songs I already knew and it's a lovely song. I've never read the lyrics or really listened that hard outside of recognizing he says "sad sad songs" and "bitter melodies" so you can imagine my surprise when finding out people have impressed memories of 9/11 on the song. I had no idea.
Does every album released late 2001/early 2002 get 9/11 themes pushed on it? Not that this one is undeserved, really, though the "tall buildings shake" line would have been pretty on the nose if it had been written after 9/11.
Anyway, this is a song that is so good I cannot imagine someone actually writing it, but in a good way not in a like Max Martin robot way.
Ashes of American Flags
This one's a fuckin bummer. Very satisfying melody on "I know I would die if I could come back new" though. The stretch between Jesus, Etc. and I'm the man who loves you is the best part of the album I think.
Heavy Metal Drummer
Embarrassingly, I only first listened to this song after Jake Ewald mentioned it in 104 Degrees. One of the best Slaughter Beach, Dog songs.
And Heavy Metal Drummer is one of the best songs on this Wilco album. I'm sure that's a totally original thought that nobody has had before.
One thing I think is funny is that there's multiple instances of Jeff Tweedy making sure everyone knows that while he is not the heavy metal drummer in question, he does respect the heavy metal drummers more than he did in his youth. Growth.
I'm the Man Who Loves You
I think this is the same type of song as Heavy Metal Drummer. Kind of a comparatively chaotic, noisy intro before delving into the meat of the song. Unlike a lot of songs on this album, this song seems like it should be seen live. Not that I think the other songs would be bad live, I'm sure the parents go nuts for Heavy Metal Drummer, but a lot of those songs feel different. There's two types of songs in this world. There's songs for movies and songs for street fests. This one is the latter.
I love this song and I especially like this Conan performance of it because none of them look like they're going to the same event. That's my favorite kind of dude group dynamic. Dudes rock.
Apparently this song is in an episode of UK skins which means I'll be searching for that for the foreseeable future.
Pot Kettle Black
This song fell flat for me on my very first listen. I didn't dislike it, but like.. I'm still riding high on the back to back experience of Heavy Metal Drummer and I'm the Man Who Loves You. The positioning left it disadvantaged.
Now on listen four it might be my favorite song on the album. I love the sort of whispered vocals. While I write now I'm finding the lyrics distracting and engaging— continually starting sentences and getting pulled in by a new line jumping out for so long I totally forget where I'm going. It's always fun when one of these articles leaves me with a song I know I'll listen to on repeat for days afterward. This is the song.
My Wilco themed AIM away message would be "you are so oblivious to yourself."
Poor Places
This song was another first listen favorite. I like the self referential lyrics. I like the different movements. The sample thing is cool I guess but I could do without it. I'd be interested to know how much money that settled for over the "Yankee, Hotel, Foxtrot" sample. At any rate, not much repeat listening ability with this guy, but a good one!
Reservations
Yeah idk. Certainly is an outro.
In summation
I think at any other point in my life I would have said this is boring and I do not want to listen to it. However, in my advanced age and growing interest in things that can't be found in the emo bandcamp tag, I feel very positively. I love Chicago. I love Illinois. I love the infinite one liners you could pull. It lives up to the hype.
Pot Kettle Black is a top 3 best song I've heard because of this Something Old exercise right up there with Fireworks by Mitski and A Better Son/Daughter by Rilo Kiley.
My one and only complaint is that I wish they were named after Will County, the county in suburban Chicago I grew up in, and not like.. aviation code or whatever. Maybe I'll just retcon that one for myself.
Something New
Figured I'll just plug something new that I like real fast while I've got ya here.
Maxwell Stern and Tobias Reif have a band called Orbits that put out a couple songs this week that are very cool. I once interviewed Max for a zine I gave up on finishing (sorry Max). Anyway, lots of their music is cool, including Max's album from last year which I wrote about as one of my favorites of the year, but I'm especially fond of these two songs. Check it out wherever music is sold.
---
Brief promo: I put out a new zine recently and if you're a paid subscriber you could be getting it in the mail! Or maybe you already have! If I don't have your address and if you want it please fill out this form as soon as you can!
Anybody else interested can purchase it here! It's a sort of photo zine with some words about traveling, how I take the same photos everywhere I go, missing leaving my house, missing meeting new people, etc. More photo than word. It's 24 pages, $6 (free shipping US, $2 everywhere else), full color, it's called No Parking. Very nice very fun!
---
Miranda Reinert is a music adjacent writer, zine maker, and law student based in Philadelphia. Follow me on Twitter for more on music and other things like when I get to be on the Endless Scroll Podcast: @mirandareinert. I also just opened up a paid tier of this newsletter which for $5 a month (or $40 a year! what a deal!) you'll get free zines as I make them and one upon sign up! Wow! Click the button below to get in on that! But as always, thanks for reading!