reviews
on dig me out by sleater-kinney
i listen to dig me out by sleater-kinney and discuss my relationship with riot grrrl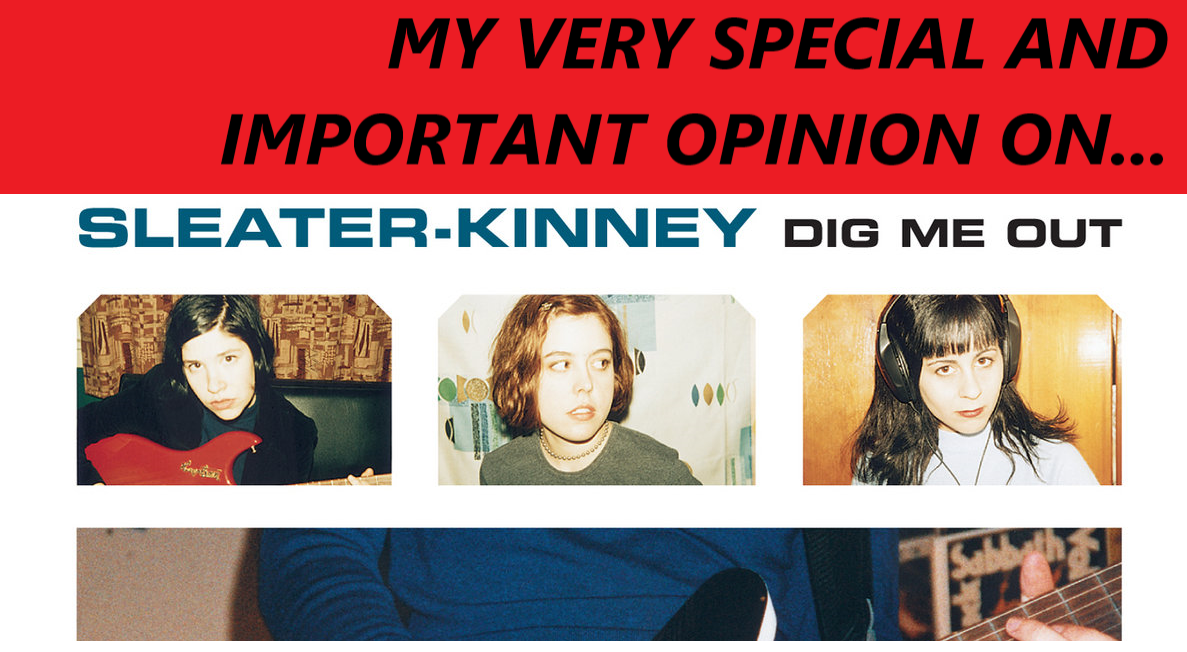 The thesis of me listening to beloved albums for the first time is to really try to see why people love these records and challenge my perception of my own taste. I'm admittedly quick to decide when I don't like something and don't always have much interest in continuing to try. I don't pick things that I think I'll flat out dislike in some bizarre desire to write something shitty and meanspirited, but I do pick things that I have some preconceived notion about (like blink-182, Wilco, Alkaline Trio) or other albums by artists whose other albums don't really make sense to me (Mitski, Laura Stevenson). It's a balance. It's not intended as rage bait, even when I end up not liking the record overall. The intention is always a good faith experience and just to make some jokes.
I've thought about doing a Sleater-Kinney album pretty much since I started this newsletter and decided against it because I'm afraid my desired tone of half reverence/half joking won't work with them. Riot Grrrl as a whole has too much baggage that I have too many thoughts about to write about in the context of the silly little reviews I do. I'm also afraid I just flat out won't like it which eats into the fun parts of doing this for me.
I maintain all of these concerns, but curiosity has gotten the better of me so here I am! Let's get started with everything I know about the band:
Carrie Brownstein was in Portlandia. Longtime readers and followers of my twitter account will know nothing makes me violently irritated like "sketch comedy" and, even worse, Fred Armisen so it is a strike against the band.
Corin Tucker was in a band previously, Heavens to Betsy, that I do find fun.
I think my boyfriend likes the song Jenny so I've heard that one.
There was some weird stuff with the ... removal of their drummer a few years ago? St. Vincent was there?
Amazon exclusive release recently
riot grrrl
End list.
Dig Me Out has art I'm fond of. I really like the artistic direction of a lot of late 90s/early 2000s album art. Q and not U's No Kill No Beep Beep, the first Dismemberment Plan album, Nothing Feels Good by The Promise Ring.. all particular favorites of mine. This one's primary color vibe and portraits does it for me. I just think it's cool. I thought about writing this about their follow up album to this one, The Hot Rock, because I'm also fond of that one's album art even though (or maybe especially because?) it reminds me of a Sex and the City transition scene.
Unfortunately, I found this extremely difficult to listen to so let's talk about it.
At the end of the day, it's Corin Tucker's voice that I find hard to listen to on more than a few tracks which is frustrating because I don't mind it with Heavens to Betsy. Maybe it's because songs like "Terrorist" skew a little more abrasive in a way Sleater-Kinney isn't, I'm not sure. But the voice ruins it for me more often than not. I cannot do a song by song breakdown because I think what's iconic here isn't really that the songs are all perfect. There's more here than that so instead I'll give you some groupings.
Songs I Like
Heart Factory
Little Babies – I imagine this one would be really fun live
Jenny
Songs I Don't Like
Dig Me Out
Words and Guitar – this one I especially hated
It's Enough
Things You Say
Dance Song '97
Songs I Almost Like
The Drama That You've Been Craving – some of the dual vocals on this one are cool but (don't get mad) it just goes on too long
Not What You Want
Buy Her Candy
I listened through the album twice and I can see why people would like it. The things I find grating won't transfer so much to a live show and plenty of songs seem like they'd be fun to see live. It's also grungy and my bias against grunge is a personal problem. Similarly, I imagine if I'd come across Sleater-Kinney as a teenager I'd feel differently. It's a record undeniably about femininity and expectation put on women and the day to day. Music I listened to when I was young was especially dominated by men and there was a time seeing female representation in the punk and emo I loved was in itself a reason to pour over a record. I'll be the first to admit that's why I consider Frankie Cosmos a formative, deeply important band to me. More than that, I imagine if I was younger seeing really overt feminist themes and discussion by the band I would have loved it, but this kind of 90s white woman led feminism where it's very "Us vs. Men" without much self awareness feels too shallow for who I am now to really latch onto.
Maybe important to note is that I'm more familiar with riot grrrl stuff through 90s zines than I really am through music itself and that probably contributes to my natural inclination to be critical of the place Sleater-Kinney has now. I typically find zines and newsletters that came out of the era interesting in a way I don't find SK (or Bikini Kill or most of the bands). Zines of the time– particularly perzines, I think– allow for some more nuance into what they were thinking and experiencing. The music is all built on energy and taking up space in a live situation I'll never truly be able to feel.
For all of my conscious life the whole movement feels like it's just been aestheticized down to a Carrie Brownstein/Kathleen Hanna marketing tool. Whether that's their fault or not is up in the air, but it certainly doesn't do anything for me.
Punk's propensity for progressivism is both what makes it compelling and pretty quickly dated. So many of these people get stuck in the politics of their moment.  It's why those New York Hardcore dudes think they're progressive because they used to fight skinheads even though now they're cop supporters and don't understand what's wrong with putting something like "Punk Lives Matter" on a patch. Now so many 90s white feminists who viewed themselves as progressive are just liberals who still think they're the underdog. Anything based in youth culture and fighting a cultural enemy that will inevitably morph is better off left in its moment or else it risks being devalued.
While I don't begrudge artistic success, with Sleater-Kinney I find it especially difficult to separate my stance on that from how I feel about the music. Also the Portlandia thing.
As a side note... Lots of substantial riot grrrl zine collections have been donated to university libraries which bums me out from an accessibility perspective, but the Dig DC Punk Archives have some cool ones among their collection of zines that I've digitally flipped through recently. I especially like the ones that skew more perzine like this one.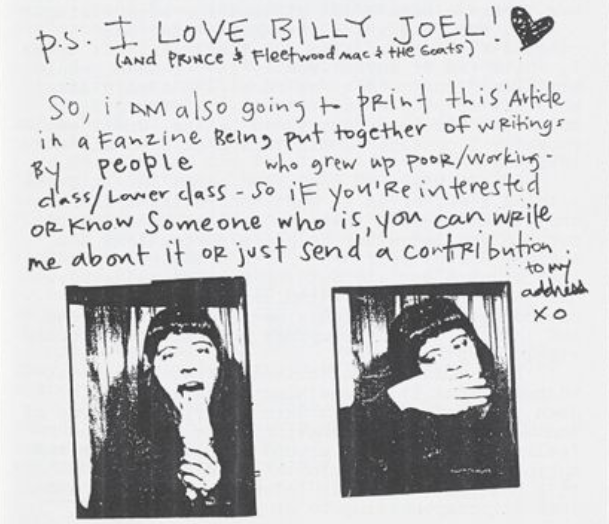 ---
Miranda Reinert is a music adjacent writer, zine maker, and law school drop out based in Philadelphia. Follow me on Twitter to hear more about music and all the cities I think are worse than Chicago: @mirandareinert. I also have a paid tier of this newsletter for $5 a month or $45 a year! If you do that I'll give you at least one free zine if you email me an address! Wow! Might want to get in on that! You may also just send me small bits of money at @miranda-reinert on venmo if you want. But as always, thanks for reading!