mrtw
Miranda Reviews The World: Live From Central PA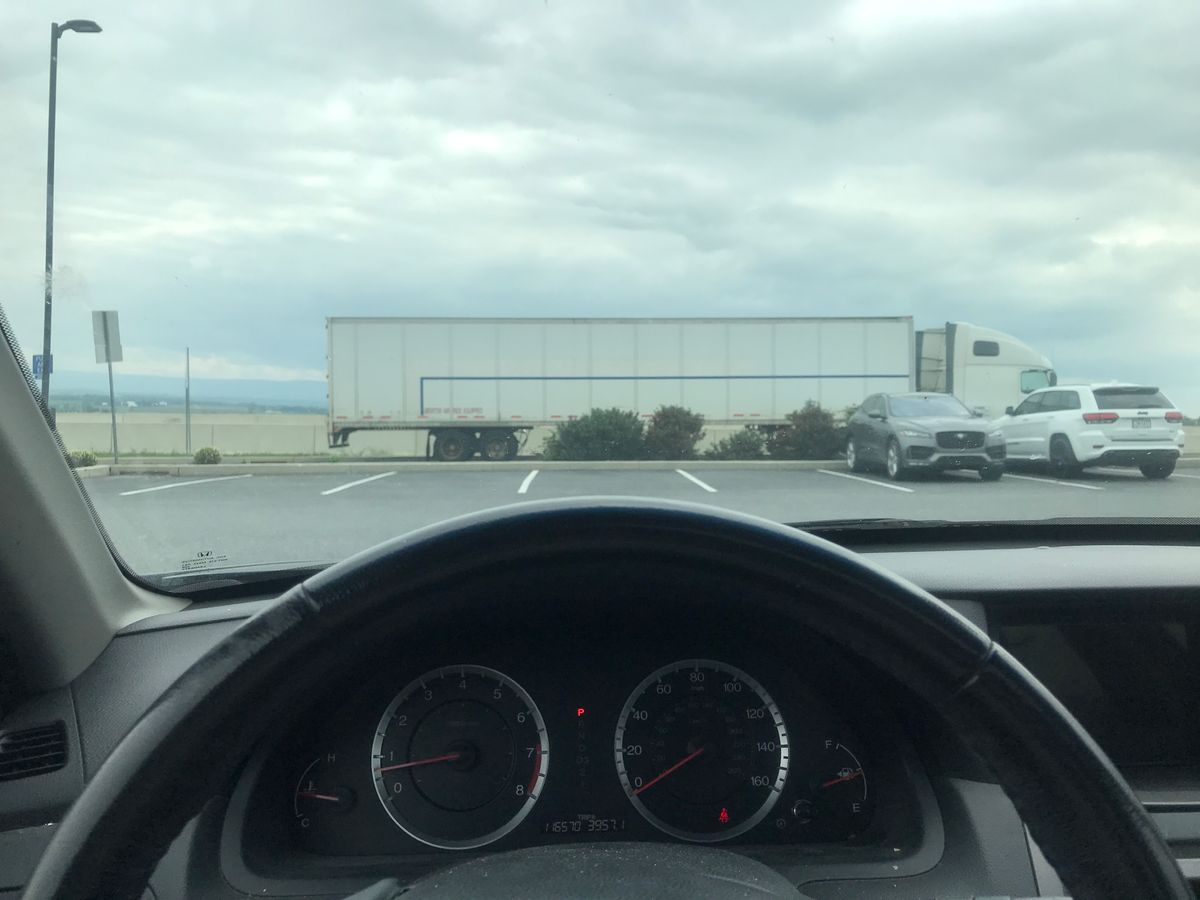 I'm driving to Pittsburgh today and i'm about halfway there right now. It's about five hours from Philly so I've had plenty of time to enjoy a bunch of songs. I made a last minute 12 hour playlist of a bunch of random albums and songs that I felt drawn to today. Some of these have been good choices, some have been major vibe killers. So right now while i have a snack in my car I'm going to review the stuff I put on this playlist.
Drug Church
Drug Church is probably my favorite band right now. I put all of Cheer and Tawny on the playlist and every time one of the songs comes on I say out loud, "this song fucking rules!" Straight 10s the both of them. Perfect.
10.0/10
Dillinger Four
The thing about Dillinger Four is that I really love a couple of their songs and I could have just picked those two, but I didn't. I put all of Midwestern Songs of the Americas. I did get stoked to hear "Twenty-One Said Three Times Quickly" though so I'll stand behind the choice.
6.4/10
The Dismemberment Plan
This was a mistake. I don't want to listen to Emergency & I out of context. Bad vibe every time one comes on.
3.2/10
The Gaslight Anthem
The 59 Sound is a perfect album and my Brian Fallon impression is coming along beautifully.
9.5/10
Hard Girls
A Thousand Surfaces is a really good record. Like Joyce Manor but longer. A good addition to my playlist, especially "Sign of the Dune" and "996 Tears."
7.5/10
Hop Along
I saw Hop Along play last night and it was wonderful. Listening to Get Disowned in the car is a frequent experience of mine and the songs are always welcome.
8.7/10
Pet Symmetry
I only put 2 Pet Sym songs on the playlist, but they're both rippers! They're the ones with the long titles. Perfect songs. Have u ever felt ur perfect teeth (woah oh oh oh oh) making connection with Chicago concrete!
9.0/10
The Promise Ring
You know, I thought this was gonna be the vibe but every time the vocals come in I skip the song. Not sure what's going on with me today.
4.1/10
PUP
I love PUP. I put almost every PUP song on this playlist and I've really been reminded of just how much I love PUP. Perfect band! All rippers!
10.0/10
Radiator Hospital
Radiator Hospital is the best when you don't know a Radiator Hospital song is about to come on. It just shows up like magic and you remember … god damn these are good fucking songs! Great stuff on Torch Song and Something Wild.
9.3/10
Self Defense Family
You might think this is a bad choice for road trip music, but I'll remind you that I'm not having fun and I've never had fun and I'm alone. I put all of Try Me minus the interviews and Have You Considered Punk Music plus some singles I particularly like on the playlist and it's made for some truly lovely, thoughtful moments. I crossed the Susquehanna River listening to "No Analog Nor Precedent" and it was beautiful.
10.0/10
Steely Dan
Aja's been on my mind and it sure is a fun vibe switch every time one of the songs comes on.
8.9/10
Ted Leo
It's just Me and Mia. Perfect song. Replayed twice it when it came on.
10.0/10
Telethon
New Telethon record just sure is fun! I love it! I'm excited for whenever "Checker Drive" and "Selfstarter AE" come on.
7.7/10
Touché Amoré
Okay so all of Is Survived By might have been the wrong choice. What was I thinking! Never have I misread my own vibe so badly. God! It's too much!
2.5/10
Turnstile
Normally I love driving listening to Turnstile so I popped the EP from this year and Nonstop Feeling on the playlist. Big mistake. My slightly hungover brain cannot handle it. All the stuff that makes me love the first Turnstile album— the chugging guitars, the drums, the staccato almost rap rock vocals— all of it is making me literally nauseous. This is so fucked up and unfair.
A reluctant 1.8/10
The Wonder Years
You know, for a band that I consider fundamental and incredibly important to me, I'm always listening to the songs like Don't Open The Fridge. I put a bunch of early TWY on this playlist and I'm having a blast. Racing Trains, When Keeping It Real Goes Wrong, Leavenhouse 11:30.. All bangers. I love it. I also put all of Suburbia on there which I'm enjoying but I'm not enjoying it as much as Don't Open The Fridge.
8.8/10
Okay I opened my Monster Energy Drink gotta go. Talk later.