update
on something new
i switched platform and transitioned from my danny fenton life to my danny phantom life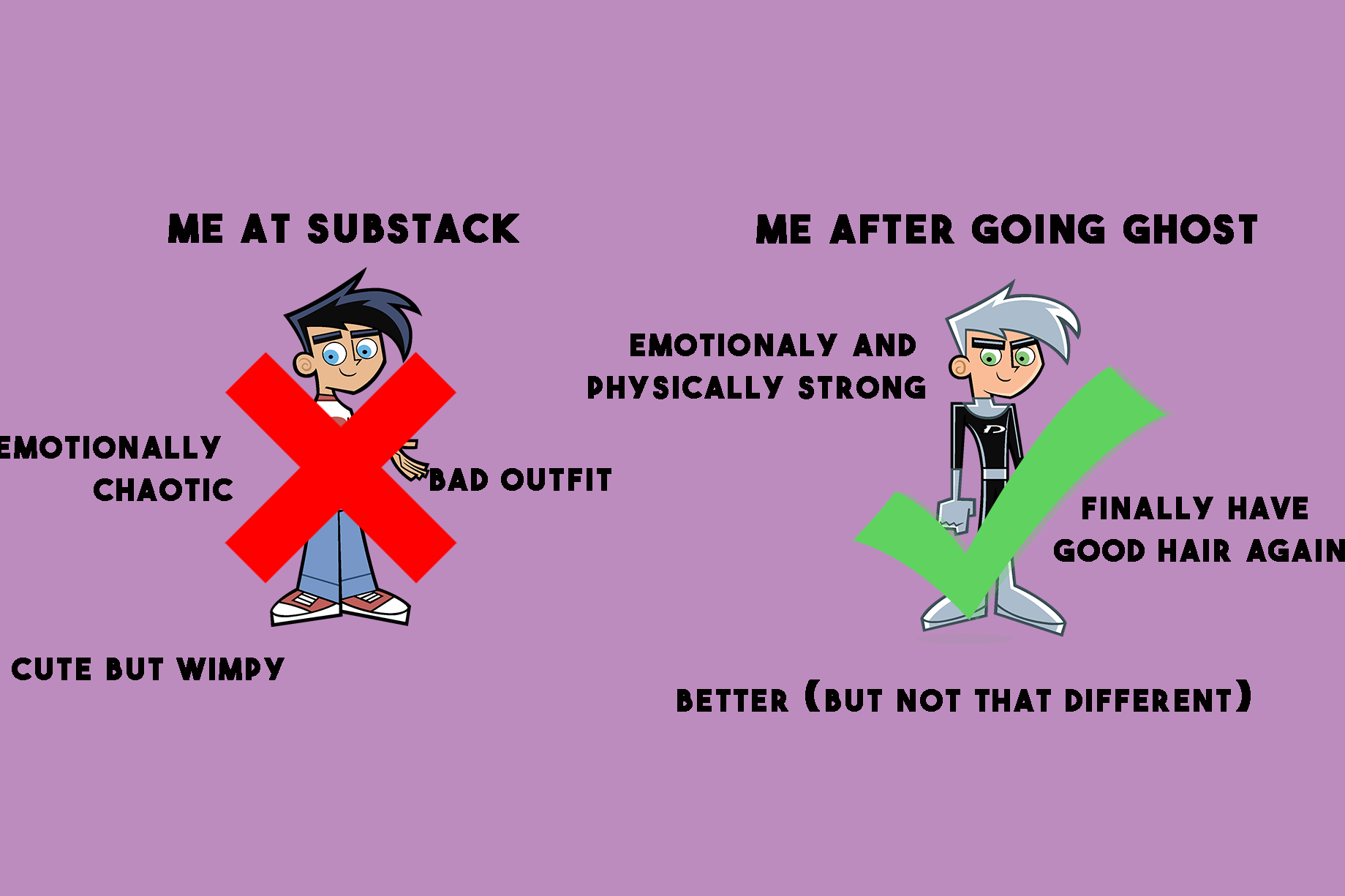 I have switched platforms, obviously, but looking at everything going on in the US right now it doesn't matter. Once again we watch the racist police all over the country do exactly what they've been trained to do. It can't be fixed. There is no reform, only defunding and abolition. Our communities do not need cops.
Consider donating to mutual aid efforts in and around Minneapolis today. Protect and support those around you.
Minneapolis Northside Mutual Aid
Carrd containing other resources and orgs
---
If you want to read some stuff on why I moved over here, you can go read Zachary Lipez's post. I align with that pretty well. You know, except instead of Substack rmaking it less fun to blog about Turnstile it's like.. Substack makes it less fun to blog about how many hours of Martha I listened to in 2018.
I don't really want to make a Why I Left Substack thing, honestly. I don't think it matters, but I do like Ghost as I've been messing around with it. Here are my top two reasons:
It feels like tumblr. Uploading a theme, changing the little accent colors, all of it feels so much like tumblr. As a big tumblr nostalgist, that's fun.
I was able to sort of import the main function of my own zine website, having a place people can download pdf copies of the zines, which is nice. You can check out that page in the menu. I only put the ones that are my own writing so Danielle Chelosky's zine from a couple years ago and Jackson Watkins' zine from last year are both not present. Otherwise they're all there.
It does cost money, but it all evens out with when you consider the fee Substack takes.
Anyway, I think I like it. It was easy to transfer stuff over and the people putting together the how-tos on all of that are really articulate. Makes it pretty easy.
I think the hardest part of the Substack this is just because I worry a lot that people won't read my writing if it's not all in the same place and if it isn't presented nicely. Maybe that sounds like a self deprecating thing, but I don't mean it that way. I just think that at this current spot in the internet, I don't think a poorly cobbled together individual blog will be able to get any kind of traction. I personally wouldn't read it unless it was from someone whose writing I already trust. I am nobody so I can't expect people to pay attention and follow it unless it remains easy. Most people read it from twitter so how it's presented means a lot to me.
Writing my newsletter has been a really positive and wonderful experience for me. I really like talking to people who respond to it, I like that I make some money, I like writing in a more immediate way than what I was ever used to with zines. It's nice. I will be continuing on this here website.
If you're a paying subscriber or a free subscriber, you don't need to do anything. I'll probably keep my Substack as is for a while just because I don't really want to break a bunch of links. I'll probably just make notes at the bottom of posts linking here.
Alright that's all I got. The archive will be up soon. Today I'll decide if I like Sufjan. Thanks for being here.
love u bye xo