eoty
on something old: a 2020 favorites list, part 2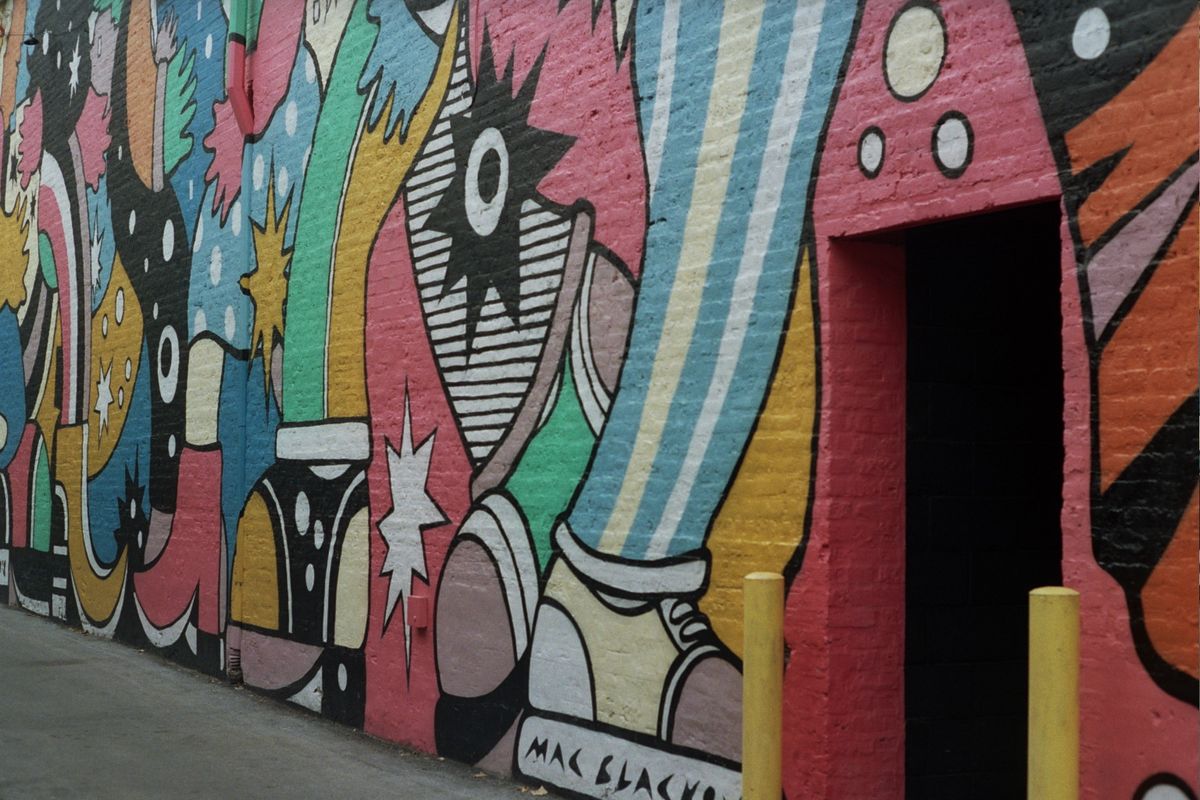 I reference pretty frequently that my newsletter started as a format of discussing one old album people love that I'd never listened to and then a new album I enjoy. I talk about it like it hasn't only been 6 months since I started it. Anyway, I didn't do it that many times and it mostly lives on in the name, but I've found that this year has sort of been defined by an interest in exploring albums that are new to me.
Without live music I don't have an implicit a reason to check out new bands unless something really strikes me about them, for whatever reason. Live music always provided a reason to check out random bands to at very least know what I was getting into in advance. Now that it's not present, I've found myself looking back more than I might usually so here's a round up of my favorite songs I heard for the first time this year that didn't come out this year. Some I wrote about before, a lot I didn't.
favorite song by 2nd grade
This is a perfect song. It's short, it's simple, it's stuck in my head constantly. 2nd Grade put out a lovely album this year, but this is probably my favorite song I heard for the first time all year. I think the structure of a month and a back and forth of changing favorite songs is genius and perfect and I love it so much.
fireworks by mitski
Mitski's Puberty 2 was the second album I ever talked about for this newsletter. I'd listened to Be The Cowboy upon release and didn't care much for it but Mitski is an artist people deify. I wanted to get it. This whole thing is about how bad I want to get music despite my hater inclination.

I liked Puberty 2 even if I didn't especially feel like the lyrics were the style that really get me. However, I remember getting to Fireworks and immediately just Getting It. There was a moment of connection and I got it. Even if I never really return to the album, Fireworks is the kind of great song my life would be worse without knowing.
caretaker by laura stevenson
Laura Stevenson is an artist I always felt like I wanted to like and, more than that, that I could like. I can't pinpoint why it took me so long to get it. When Tim Crisp announced he was doing a podcast about Sit Resist with Laura and friends I decided to finally give her music a really good shot. Maybe everyone just needs their access point and for me Sit Resist was perfectly that. I love that whole record now, but I remember hearing Caretaker for the first time and being floored. Every time I hear it I'm floored for a new reason. Perfect song.
12 steps by japanese breakfast
I listened to this song more than any other song this year. I love.
fling by built to spill
I heard this song, listened to it 240 times, then found out it is a Horny song. Life ruining. Still a favorite but..
no good al joad by hop along
I've known Hop Along songs over the years but nothing ever stuck with me much. I've seen Hop Along play at the Logan Square Arts Festival but I mostly just got drunk and didn't back up my boyfriend at the time when he told the Uber driver I was his girlfriend and it was fine he was bringing me home. Then I saw a tweet from Dan Ozzi about a live video of the song Get Disowned that I guess changed my mind? So I watched that video and the way people talk about Hop Along as this special, incredible thing suddenly made sense. I listened to the album Get Disowned and as soon as it hit No Good Al Joad I could not believe my friends had never shown me this song. I love this song. I love a lot of the album but … holy shit. Frances Quinlan did an instagram live where she played the song. It's the only video I can find. I love this song. I love the video. Watch it.
here's the original video that Dan posted:
a better son/daughter by rilo kiley
I guess I feel similarly to this one as No Good Al Joad, in a different sort of vibe. I listened to this album for the first time this year after only really knowing Jenny Lewis from The Postal Service and my dad liking her Austin City Limits performance a couple years ago. This song is delightful. It is the perfect marching band indie song. Maybe I'm the last person to know Rilo Kiley is good, but I think this song is good and cathartic in a very special way.

Sometimes when you're on, you're really fucking on.
i love creedence by casiotone for the painfully alone
I talk about how the last show I went to before quarantine shut everything down was for Ratboys, Slow Mass, and Advance Base. I like Advance Base, I was just having a hard time in February. But at some point in the fall I heard I Love Creedence and I just ! I loved it so much! I listened to it hundreds of times in a row and loved it. This is a very stupid review of this beautiful songs. Owen Ashworth consistently creates these tiny worlds inside his songs that consume me so really any of his songs could be this for me. It just happens to be I Love Creedence for me this time. Owen Ashworth is a master of deceptively simple songwriter and I haven't been able to breakaway from the songs I hear of his.
annie's a witch by lvl up
If you read my other EOTY list from 2020, you'll know I love Trace Mountains. Through being a Patreon supporter of Dave Benton, I have discovered many people are clearly mostly converts from LVL UP. I, personally, had never explored that band, but once I heard Hoodwink'd I was hooked on Annie's A Witch. Yes, it's a Dave song. Yes, it sounds like Trace Mountains because of it. I just think it's neat.
the ice of boston by the dismemberment plan
I am a Boston hater. I think it's a stupid place. Anyway, this song goes. When my partner an I were getting back together I was trying to get into some stuff he likes because I suck usually and this ended up being something that stuck with me. I love the silly storyline. I love that it's not too long. I love that it's my nice pal Adam's twitter bio and people I really like have Dismemberment Plan tattoos. I love when people love things. A lot of nice people live in Boston but I still hate Boston.
the possibility by worriers
Worriers sort falls into a kind of band that I always figured I could really love. My partner has a cool Worriers shirt. It's black with purple writing. Anyway, I think access points can be hard. I ended up reading Lauren's newsletter for a while before really getting into any of their music but once I did it was really impactful and lovely. I know not all musicians will want to delve into other forms of internet presence like a newsletter or livestream schedule or whatever and I get that, but if you feel inclined I do think it can help people understand the music. Anyway, I think The Possibility was a perfect access point for me and I also always enjoy Lauren's newsletter so check that out too.
heavy heavy by pom pom squad
Pom Pom Squad was introduced to me through a friend and every time I hear one of her songs I am blown away. Heavy Heavy is my favorite but everything from the songs to the merch to the visuals just works. The cheerleader outfits and videos …. it's all just so good and cohesive.


In real music news, her voice is unbelievable and the writing is beautiful. Whenever I hear a Pom Pom Squad song I hear something new and exciting to finally notice an extra drum detail or a new line to obsess over. I can't wait to get more. Please give us more.
25 by bomb the music industry!
I have been getting into Jeff Rosenstocks music slowly for years. Sorry. This songs rocks. My friend Jackson tweeted a funny BTMI themed tweet this year after he turned 26.
Jackson Watkins @jacksonprobablylast day of 25 and I never even walked two miles in the rain in a suit, my feet torn up by my father's shoes Receipts and cards tumble out of my pocket to the floor of the station, I still don't have a wallet Up a flight of stairs to Herald Square, the umbrellas of New York tak
October 11th 202010 Likes
But also my partner played this one a lot too. This is kind about Gabe and also me playing songs hundreds of times, over and over. 25 is good. Jeff is cool. One day he'll get a perfect full overview by someone more talented than me. I hope it's done by someone around my age not someone 35 now. I hope music writing exists in 20 years for people who are 25 now. Speaking of…
---
I'd like to take this time to talk about some of my favorite pieces of music writing/music journalism from this year. Some are by people I've admired for a while, some are by people I consider friends or peers. Either way, they've made me more thoughtful or calm or happy or something that has stuck with me. I love so many writers and I'd like to share some that aren't just like angry ex-millennial blog guys like I am prone to talking about all the time.
Danielle Chelosky
I first started talking to Danielle because she pitched me a zine last year that I ended up printing. She was 18 at the time. It was a compilation of the last year of her interviewing musicians. Since then I've watched her grow into an even more incredible writer and expand into personal essays and poetry alongside her phenomenal music coverage. Here are a few of my favorite pieces of her work from this year:
Ghost (Hobart Pulp): A personal essay about loving someone dealing with addiction and moving on.
On Chuck Klosterman (The Waiting Room): Half personal essay half review of Killing Yourself to Live. This one's from her wonderful newsletter which you should subscribe to if you don't.
On facing life through your art, an interview with Jeremy Bolm (The Creative Independent): An interview focused around emotional output and focusing on projects instead of doom. Maybe recency bias, but maybe my favorite interview she did all year.
Mia Hughes
I first met Mia at a house show in suburban Chicago while touring with Ghostbusters VHS. She was impossibly cool then just like she is now. It is impossible to overstate just how good she is and I am honored she calls me and my boyfriend her parents even if it makes me feel a thousand years old.
2nd Grade Interview (Track Seven): I am biased toward discussion of a band I really like, but all of Mia's work for track seven rules.
Claud: meet the first artist signed to Phoebe Bridgers' new label (NME): Sometimes you read an interview and know the person writing it was exactly who should be doing it. A perfect pairing. This is one of those times.
Band To Watch: For Your Health (Stereogum): Mia made her stereogum debut and I loved to see it.
Eli Enis
If I had to pick my favorite writer of all the people I consider peers, Eli wins it. He covers a lot of stuff I'm personally interested in on the more industry side of music journalism. He also runs a podcast called Endless Scroll with the equally lovely Eric Bennett that they've allowed me on a couple times. Endless Scroll is also a newsletter where every week day they review a song! Wow! I plugged some of their other articles I've liked this year last time I was on Endless Scroll, too!
Indie Labels in 2020: A Surprising Tale of Resilience (Water and Music): Water and Music is my favorite music journalism outlet probably. Their patreon is well worth the money if you've got $7 knockin around a month. This piece is an awesome look into how indie labels fared this year.
How the labels behind Mitski and Mac DeMarco navigate TikTok (Water and Music): More truly fascinating work at the intersection of music, tech, and business. Exactly what I like best.
"Is Rock Dead?" with Chris Wade and Molly O'Brien (Endless Scroll Podcast): This is a recent podcast about, well, rock music and figuring out what it is featuring other podcasters. I liked this episode a lot so I'm linking it instead of proving I'm a real hater and linking their list of things that disappointed me.
twitter / newsletter / podcast / patreon
Bineet Kaur
Bineet is someone I speak to regularly and often get to read her articles before they're posted. She's funny and sympathetic and wonderful in every way. She also started my favorite recurring column at any blog. Her newsletter is great, too. She blends personal perspective and art and media in a beautiful way. Angel person.
The Alt's Bookshelf (The Alternative): I'm just linking the page with all of them. Disclaimer: she did review a zine I published. It's called Convergent Lines and it's by my pal Jackson Watkins about the intersection of grad school and DIY. It rules. Anyway, this series is about reviewing zines, books, poetry, etc. made by musicians or otherwise about music. It is delightful.
today's teens need something like tumblr (Substack): I'm a sucker for talking about Tumblr. Bineet and I had similar, though not exactly the same, experiences on Tumblr so hearing about it was thought provoking. I think a lot about how social media sites impact fan culture among teens. One of my favorites.
i miss anthony bourdain dearly (Substack): I'm a sucker for Bourdain, too.
Ellie Kovach
Ellie knows more about music than I could ever hope to. Their brand of blended personal and culture essay without dipping as far outside of being incredibly knowledgeable is incredible. We've connected on lots of things over the last year or so since I responded to their Blink-182 newsletter about misogyny. Very good stuff. Here's some of my fave You Don't Need Maps writing.
quick hits emo iceberg edition: In which Ellie and I have fake beef. Not really, but it is a response to my emo iceberg newsletter which is fun and informative where I'm just a knowledgeless hack.
blink-182 and The Futility of Music Journalism: This is the first piece I ever read by Ellie and it's still one of my favorites. I remember not entirely agreeing with it all and that's the best part.
Fireworks Were Too Good for This World: Every once in a while, though, I agree with everything they say. This is one of those.
Twitter / Newsletter / Patreon
---
Miranda Reinert is a zine maker and law student based in Philadelphia. She is hoping you have a good new year's eve. Follow me on Twitter for more on music and other things like an internal debate on good and bad animals: @mirandareinert. I also just opened up a paid tier of this newsletter which for $5 a month (or $40 a year! what a deal!) you'll get free zines as I make them and one upon sign up! Wow! But as always, thanks for reading!